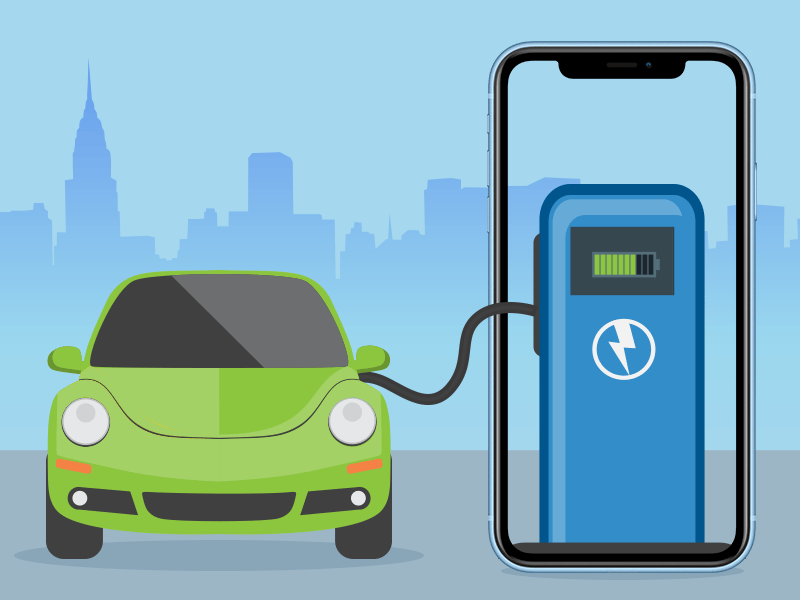 Ankit Patel

April 22, 2022

8 min read
OMG! The fuel prices are hiking continuously without even a pause. This is definitely a matter of concern for the people who are having petrol-fuelled vehicles. The best option of not being the victim of the hiking petrol prices is to switch to cost-effective electric vehicles.
The market for Electric Vehicles is gaining momentum steadily. In due course, in comparison to conventional vehicles, EVs are going to prove to be more cost-effective, which will not only boost the economy but also play a vital role in controlling air pollution. The future picture is very clear, about 75% of vehicles running on the road will be Electric Vehicles. In the year 2021, there were approximately 4,093K EV units and it is estimated to reach 34,756K by the end of 2030.
As per a survey, electric vehicle sales will grow by 26.8% by the end of 2022, because of which the figure of charging stations being set up is increasing continuously. As per another report, it is expected that the EV charging station's CAGR is going to reach nearly 38%. Hence, it is the best time to invest in EV charging station finder app. With this app, it will become easy and convenient for EV drivers to search nearby EV charging stations with a few taps.
◉ Perks of Electric Vehicles
When compared with fuel-powered vehicles, there are a lot of perks you can enjoy while owning an EV. A few of them are:
Low maintenance vehicle.
Zero-emission vehicles; hence considered environment-friendly vehicles.
Can be recharged easily at homes.
Does not require fuel to run; hence the accelerating fuel prices are no more a matter of concern.
◉ Reasons To Make Investment in Electric Vehicle Charging Station Finder App
As discussed above, switching to electric vehicles is going to be the biggest need in the coming days both in terms of saving the environment as well as the economy. Being highly in demand and because of the zero-emission trait, the vehicle manufacturing companies like Tesla, Verge Motors, Okinawa, Mahindra Electric, etc. are concentrating more on manufacturing EVs.
The big automobile brands are focusing more to have 52% of their overall sales of EVs. From 2022 to 2030, the global market for EVs is expected to increase by 27%. Hence, finding a good EV charging app development company and making an investment in an Electric Vehicle charging station app is a great and the most lucrative business idea with the help of which you can spin money quickly.
◉ EV Charging Station Finder App
In simple terms, the Electric Vehicle charging station finder application is an app that assists you in locating nearby EV charging stations with a few taps. The in-built navigation feature of the app leads you all the way to the charging station.
In the market, there are numerous apps of such type that are helping the owners of the EV charging station locate their spots for charging their vehicles.
From these apps, you get the station's real-time availability status, like how long you will have to wait to charge your vehicle. With this app, spots can be booked in advance to avoid waits.
The Electric Vehicle charging station apps that are doing pretty well currently are: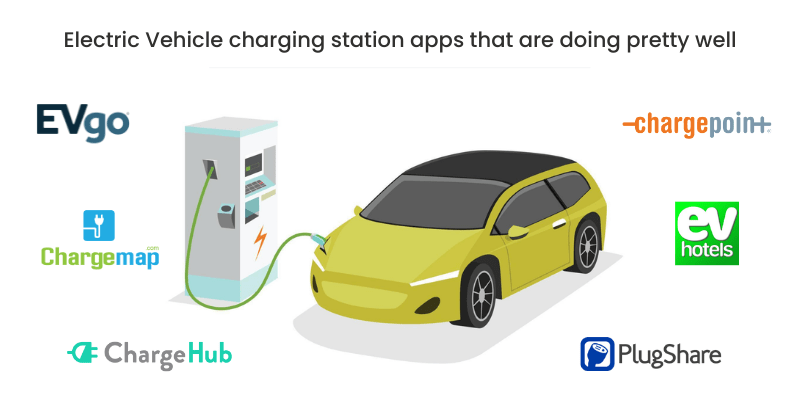 Plugshare
ChargeMap
EVgo
ChargeHub
ChargePoint
EVHotels
ChargeShare
◉ Perks Of Electric Vehicle Charging Station Finder Mobile App
Saves time – Advance booking of charging slots option is available that saves a lot of queue waiting time.
Emergency – During urgent times, the app acts as a savior in locating the nearby charging stations.
Easy transaction – Transaction of the amount can be done easily and the transaction history can be saved for future reference.
◉ The Workflow of Electric Vehicle Charging Station Locator App
The workflow of mostly every EV charging station locator app is the same. Let's have a look at the basic workflow of the app in detail.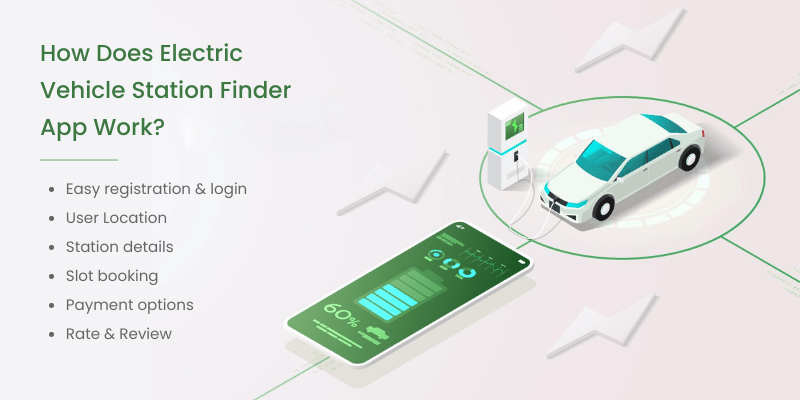 Registration: Prior to starting with any app, the app asks for registration that can be done using the mobile number, email id or any social media accounts such as Twitter, Facebook, etc.
Basic details: The app will ask you to fill in the basic details like name, phone number, upload a picture, etc.
Granting permission: Once registered with the app, the app will ask permission like access to your location along with other permissions. You need to grant permission for those requests to enjoy the smooth workflow of the app.
Station recommendations: Once you've granted permission, the app starts tracking your location, and recommends a list of stations situated nearby you. Hence, you have to develop a highly responsive location-based app.
Advance booking: To avoid standing in long queues and save your valuable time, charging slots can be booked in advance.
Station details: Station details along with the pictures are displayed upon your request for the same.
Payments: The amount to be paid can be seen in the app. Payments after charging your EV can be done through your app directly or cash payments can also be done at the charging station.
Ratings & Reviews: Ratings provided to a particular charging station from other people can be viewed.
◉ Key Features to Include While Developing an EV Charging Station Finder App
The success of an app greatly depends upon the features integrated into it. It is good to include highly advanced features in your app to make it a successful one, but you need to have all the basic features. By missing out on even a single basic feature, you might fail to achieve the desired results.
Hence, have a look at all those key features that should be essentially there in your Electric Vehicle charging station finder app.
Basic Features
Registration: Without this feature, the user cannot access the app. This is the first step to be followed after installing the app. By using the phone number, email id, or through social media credentials, registration can be done quickly.
User profile: As per their wish, the users can add or delete their information and keep their profile updated. Pictures of vehicles, addresses, station pictures, contact info and many more can be updated with ease using this feature.
Geo-location: This feature navigates the user all the way to the desired charging station. A particular station's real-time view can also be derived. All the charging stations that fall en route to the user can be known with a single tap on this feature.
Station details: Acquiring knowledge about any charging station without visiting it personally is now possible because of this feature. Name and address, recharge prices, ratings, pictures, features, and many more of a particular charging station can be known.
Filters: The app must permit the user to filter the station according to his requirements. The filter options that should be there in the app are-
Station Category – Low power, high power, public, etc.
Charging Networks – Charging station search on the basis of the company.
Charging plugs – Availability of plug types at the charging station.
Station amenities – Charging station features.
Availability – Operational, under maintenance, restricted or closed.
Slot booking: This feature is the most lovable feature for all app users. Without personally visiting the station, users can book the charging slot that helps them save plenty of time.
Nearby station: The app accesses the user's location. On the basis of the accessed location, a list of nearby charging stations is displayed. This enables the user to easily ascertain how much time it will take to reach the station and the total power required for reaching the station.
Multiple payment options: The availability of multiple payment options leads to swift and easy payments. With numerous payment options, the user gets the flexibility of commencing payments through whatever method with which he is more comfortable. The in-app wallet can also be used for making payments. Various payment gateways like debit cards, credit cards, UPI, Stripe, PayPal, and many more can be integrated into the app.
Push notifications: A must-have feature in your app for updating the users about new offers, reminding them about their upcoming bookings, notifications on registration of a new station with the app, etc.
Billing history: For keeping track of the power consumed by the vehicle and to keep a record of the recharging payments done on a daily, weekly, or monthly basis, this feature is a must. This feature must be capable of providing every transaction history in detail enclosing time, date, and price paid for enhanced tracking.
Ratings & Reviews: Using this feature, the users can give ratings as per their experience. The ratings and the reviews given to the station from other visitors, help newcomers know about the services offered by that station. Also, it is a useful feature for the station owners, as they can take needful steps to enhance their services.
Advanced Features
Chatbot integration: The current advanced support or help for the app users is Chatbots. AI-backed Chatbots are proficient in resolving users' general queries instantly without the need for any involvement of the support executive. The queries that Chatbots can't answer are transferred to the support executive team.
CRM integration: To make your app run successfully for many years, you need to integrate CRM. With the help of this feature, you can manage healthy relations with new as well as existing customers. Also, this feature aids in serving various business needs like operational needs, analytical needs, and strategic needs.
Loyalty programs: With this feature, you can keep your users engaged and retain them. By offering attractive loyalty programs to your loyal users you can retain them and evade the chances of their uninstalling your app and switching to your competitor's app.
After reading about all the basic and advanced features, hope you have acquired enough knowledge on the Electric Vehicle charging station finder app features. If still there is any confusion knocking your mind regarding which features to add and which ones to skip; then certainly, you must seek the advice of EV charging app development services offering companies. Reaching out to the best EV charging app development company is also a good idea. They will definitely clear all your doubts and help you in finalizing the features that need to be there in your app.
◉ Monetization Opportunities
Simply, developing an app and providing services to your users should not be the only motto behind an app creation. Rather, the main focus should be on how to spin money through your app. With the help of a mobile app, you can make money in several ways, like an advertisement, transaction commission, membership fees, etc. Let's know about these monetization methods in detail.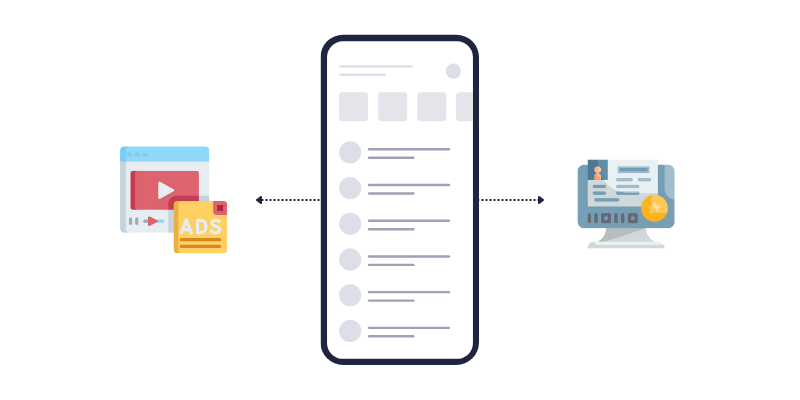 Advertisement – The most common and easy method to make money through mobile apps is an advertisement. You can display advertisements for different brands on your app through videos, sidebars, pop-ups, flash messages, etc. There are many EV charging station locator apps that offer their services for free to their users and earn revenue by charging advertising fees from the brands whose ads they display on their apps.
Membership fees – In some apps, not all but basic features are free to use. To enjoy the perks of advanced features and paid membership, the users will have to subscribe or become paid members. The membership can be offered on a monthly, quarterly, or annually basis. Hence; whenever a user will subscribe to your charging station app, you can earn revenue.
◉ Technology Stack For EV Charging Station Finder App Development
A perfect and suitable tech stack not only makes your mobile application user-friendly but also cost-effective. The tech stack used for every app is different. The requirement of the tech stack depends on various factors like features, database, server, cloud requirements, and many more.
Below is a complete list of the tech stacks, using which a robust and flawless performing Electric Vehicle charging station finder app can be developed. Have a look:
Swift for iOS/ Flutter / React Native
Java for Android/ Flutter / React Native
Node.JS/Express.JS for Backend & API
React.JS for Front-end
MongoDB for Database
AWS for Server
PayPal, Braintree, EWallets, Stripe for Payments
Groups Providing EV Charging Network:
◉ Cost To Develop EV Charging Station App
First, you need to examine your business needs, app functions, and features. Then only, you can assess the exact app development cost. Also, the app development company's location will heavily influence the cost. Go through the list of factors mentioned below that can influence the cost to develop EV charging station app:
Location of the app development company
The platform you choose (Android, iOS, or both)
Features to be integrated into your mobile application
App complexities
App development time
The strength of developers involved in the project
App architecture
Generally, for an app having basic features the development cost comes to around $20,000 – $25,000. However, the final costing depends upon the factors stated above. Thus, you need to discuss with an EV charging app development company regarding your business requirements to know the exact app development cost.
◉ To sum up
The idea of developing an Electric Vehicle charging station finder app is actually a great idea because more electric vehicles are going to be launched in the coming time. With the increased number of EVs on the road, the demand for such types of apps will also rise. Hence; without delaying any further, book an appointment with a leading app development company for further discussion and hire their EV charging app development services.
You may also like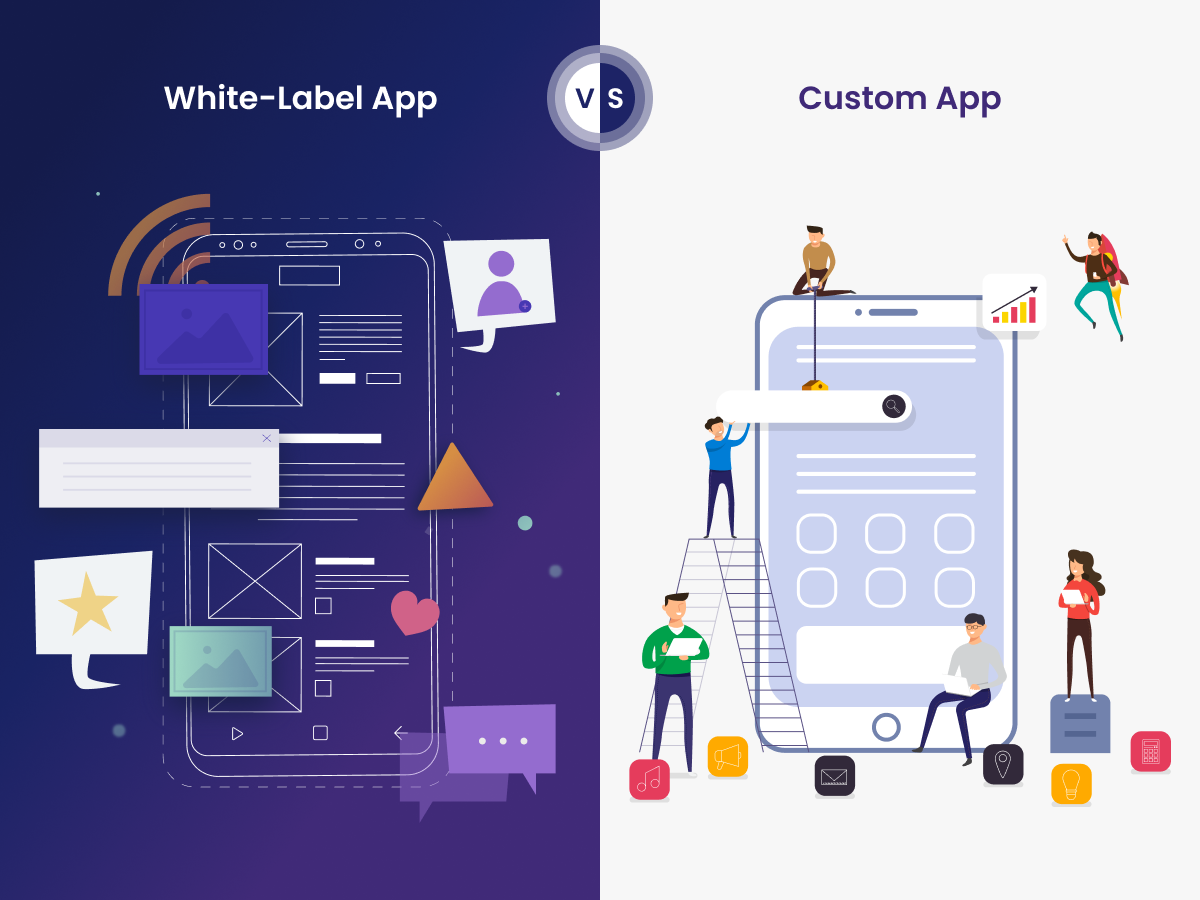 White Label App vs Custom App: Unveiling the Right Choice
Chirag Vaghasiya
In today's fast-paced digital landscape, the choice between white label app and custom app is a pivotal decision that businesses must make when venturing into mobile application development. Both approaches have their distinct advantages and disadvantages, and the path chosen can significantly impact a company's success in the digital realm. Every business has common goals… Read More