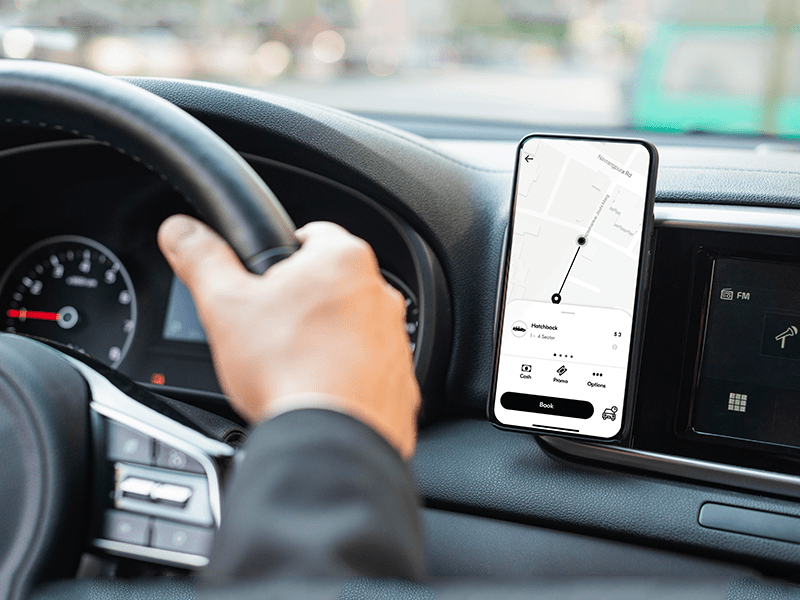 Ankit Patel

May 09, 2022

6 min read
Placing a ride request on Uber empowers you with a quick ride. Just visit the app, add some details like pickup and drop location, select a mode of payment from different payment options, and then voila, you can go to the location where you want to!
Interesting, isn't it? As you read this article here, you would gain an insight into the Uber stats for the year 2022. This includes the numbers and statistics depicting the popularity of this solution since its creation in 2009.
Upon completion of this article, you will get a better understanding of why the ride-hailing giant has therefore been responsible for acting as a source of encouragement for new ride-hailing ventures. This is particularly for driving them towards embarking on the task of taxi app development.
So, without much ado; let's begin.
◉ Introducing You to Uber
A leading global rideshare app, Uber provides its services across 71 countries and 10,000 cities all over the world.
Its birth however is nothing short of an awe-inspiring journey.
Uber's journey began way back on New Year's Eve 2008 when the co-founders, Garrett Camp and Travis Kalanic were finding it challenging to find a cab in the city of Paris. This encouraged startups to build successful taxi apps that would make it easy for riders to gain access to rides regardless of the time and hour of the day.
Thereafter in 2009, the giant had its official launch and despite its initial challenge in finding investors; today is a multi-billion dollar entity with an employee strength that goes over 19,000 all over the world.
Isn't this getting more interesting?
Let me make this even more enticing with the factors that have been responsible for the overall popularity of this solution.
◉ Reasons for Popularity of Uber
Uber has a global market value of 72 billion dollars, generating close to around 12 billion dollars in the most recent quarter. Having close to around 75 million users globally, and completing approximately 5 billion rides, the ride-hailing giant has gone on to become a prominent name among riders in the US.
In the lines below, I explain the other reasons that have been responsible for its popularity.
Reason 1
Quick rides anytime, anywhere, is the first factor responsible for setting Uber apart. Regardless of the rider's location; as soon as they enter the app and place a ride request; they thereafter get empowered with a ride request in a matter of seconds or minutes.
Reason 2
Safety is the second factor that drives the overall popularity of the solution. This is because the driver needs to submit their details. This includes background verification, submitting their vehicle details, and so on. This is something that helps to in fact make Uber stand out, so to speak.
Reason 3
As an urban resident, it is a challenge to own a personal vehicle. This is where Uber makes it easy. Riders need not have to own a personal vehicle. They can gain access to a vehicle seamlessly through the app and have it booked for a particular duration of hours, and so on, based on their requirements. This is something that was highlighted and explained in detail on Investopedia.
All these factors have thereupon been responsible for the popularity of this ride-hailing giant among riders, and drivers alike.
In the lines below, I cite statistics and numbers that have particularly been responsible for driving the popularity of Uber, especially in the year 2022.
◉ Uber Stats and Numbers for 2022
Market Share
Despite the idea of Uber being conceived in 2008 in Paris, the first ride availed through it took place in San Francisco. And, this is exactly where its headquarter is located today.
Therefore, keeping this same factor into strict consideration, let me now give you an insight into the market share that this ride-sharing giant holds in the US.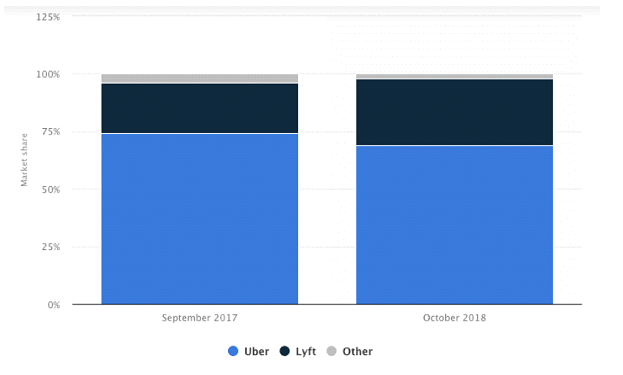 Image source: statista.com/
The figure above makes it crystal clear that the ride-hailing giant has gone on to build a prominent position in the United States.
Global Penetration – Number of Users
Possessing over 93 million active users, Uber completes close to 1.44 billion rides almost every year, with 5 top cities contributing particularly towards almost 22% of the overall ride-sharing bookings.
Next, despite the number of active monthly users reducing by 9.7% for Uber, regardless, it still enjoys a massive user base.
Have a look at the graph below to understand this better.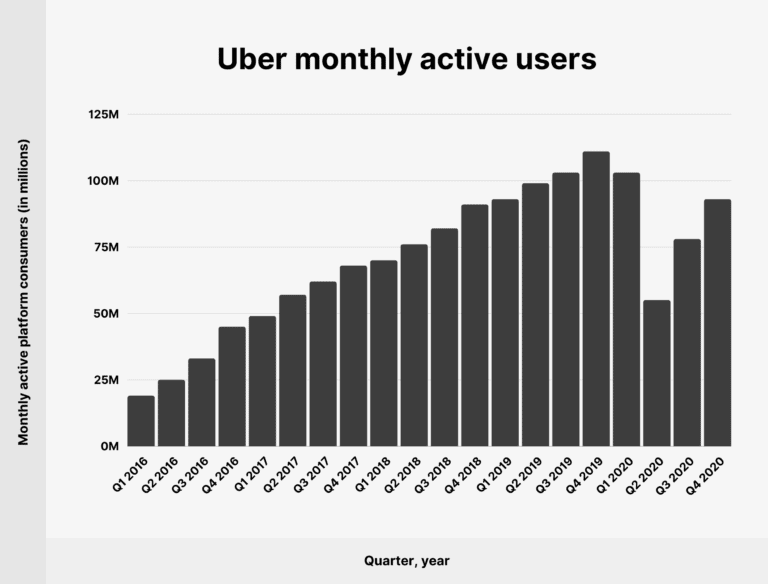 Image source: backlinko.com/
The image above depicts the gradual decrease in the number of active users per month for Uber during the year 2020.
However, if we go by the CAGR from Q4 2016 to Q4 2020, the monthly active user base has grown in fact at a consistent level of around 48.74%.
Gross Mobility Bookings
When I use the terminology 'mobility segment', I mean that it is a service that helps riders connect seamlessly with 'mobility drivers'. In short, it refers to the ride-hailing part.
If I cite figures, Uber processes close to around 26.61 billion dollars. This is in gross mobility bookings alone.
See the below graph to comprehend this better.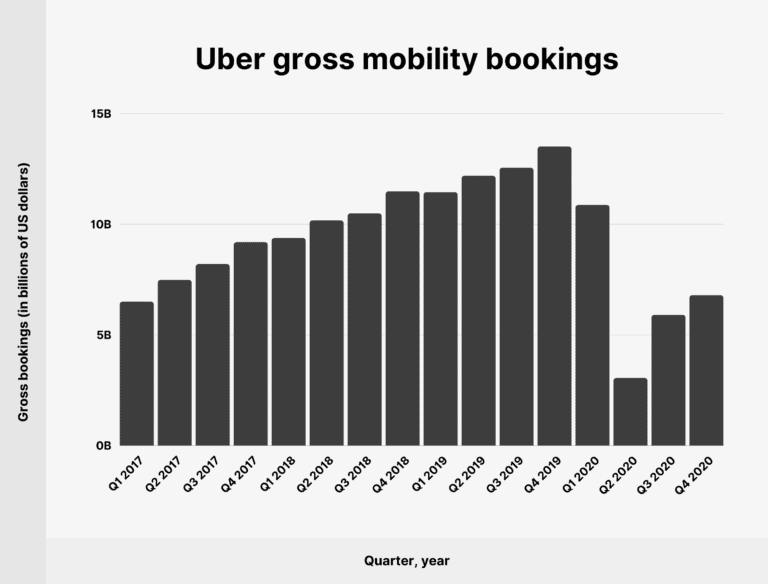 Image source: backlinko.com/
As you observe this graph above, I am sure you may be wondering what has been the factor responsible for the decline in mobility during Q4 2020. Well, it was the pandemic that was especially accountable for this.
Trips Completed Per Quarter
Every quarter, Uber completes close to around 1.44 billion trips per quarter.
When I use the word 'trip', it refers to any particular completed through the platform.
Have a look at this graph below to observe the figures.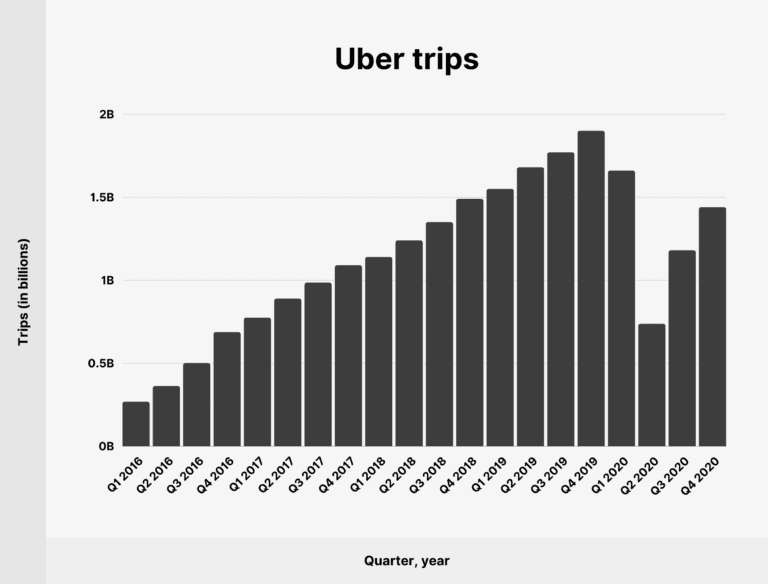 Image source: backlinko.com/
Overall Share Uber Holds in the US Ride-Share Market
Have a look at this image below to understand the current share of Uber in the US ride-hailing market due to Lyft.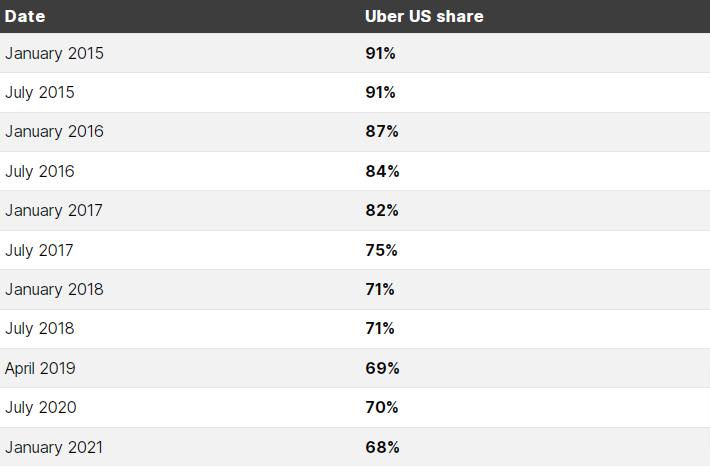 Image source: secondmeasure.com/
Number of Downloads
If you visit the Google Play Store of Android, Uber has had close to around 500,000,000+ installs. The same has been highlighted particularly on Play Store.
Market Share across Different US Cities for Uber
As stated earlier, Uber has a 68% share in the US ride-sharing market. Talking about the cities there, it has the highest market share in Houston, Texas, and the lowest in Phoenix and Detroit.
Look below to observe the top 15 cities in the US, founded on the rank in the Uber market share.
Houston
Washington DC
Miami
New Your
Chicago
Boston
Dallas-For Worth
Philadelphia
Minneapolis-St. Paul
San Francisco
Atlanta
Seattle
Log Angeles
Detroit
Phoenix
Looking at these stats, I am sure you can understand Uber is indeed a ride-hailing giant who despite, witnessing a decline in user base has observed its rise too.
It has been instrumental in encouraging new businesses to embark on taxi app development to build solutions similar to this ride-sharing mogul.
◉ Key Takeaway – Incorporation of New Ways for Taxi App Development
Uber has driven itself towards making rides easy to avail, apart from assisting drivers in getting a large array of driving opportunities. Additionally, it has also supported the ride-sharing industry, in particular, to make it big in the world of transportation. Finally, it has encouraged new kids on the block, who are starting new in this world of ride-sharing to build similar solutions. This has given them the necessary source of inspiration to embrace new methods of taxi app development to take their business to the next level. Particularly, it has ensured they adopt solutions such as the Uber clone app.
Here's all that you know about this solution in the lines below.
◉ Uber Clone – Introduction and Reasons for Popularity
As discussed above, Uber has been instrumental in encouraging new ride-sharing businesses to build solutions similar to the above for driving their taxi business ahead successfully. This has been a source of encouragement for them to include the Uber clone app in their operations.
The customizable nature of the solution allows it to possess elements making it easy for the ride-sharing business to update the app based on their future requirements. Simultaneously, as the app is responsive, it is easy to run across different platforms, like iOS, Android, and the Web. Also, since they are ready-made, businesses save on costs and time.
Riders can avail quick riders, the industry can gain clarity on the progress they make, and drivers earn a good amount of money. All this and much more, thanks to Uber.
◉ Summing Up – Embrace the Uber Clone App to Propel Your Taxi Business Ahead
Uber revolutionized the overall ride experience. This also included making it easy for drivers and the industry to make their services gain more visibility. This became a reason why more businesses went ahead and incorporated similar solutions like the Uber clone app in particular that not only saved time but costs too.
Hence, if you are starting new and want to make it big in ride-sharing, utilize the solution to your advantage now. This will help your business to gain a robust user base and make more profits right from Day 1!
You may also like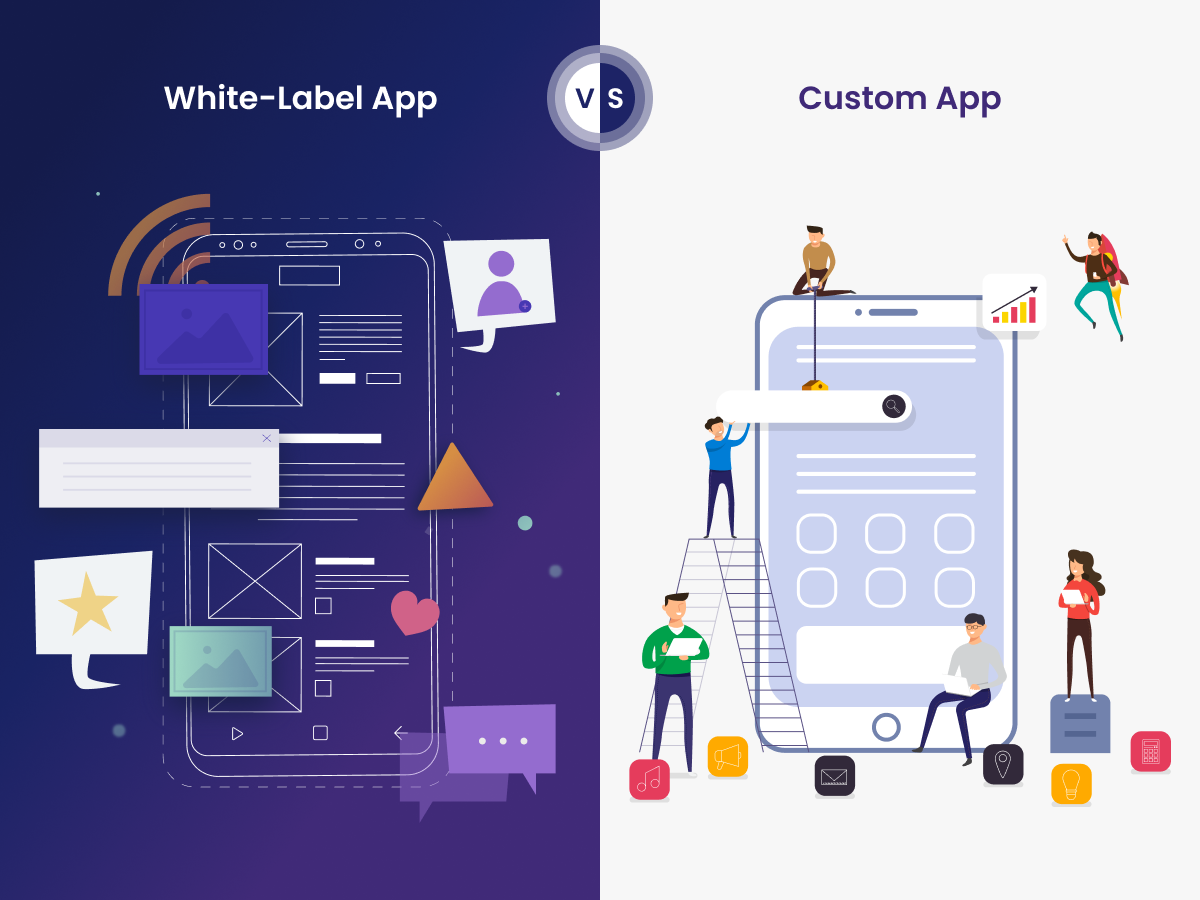 White Label App vs Custom App: Unveiling the Right Choice
Chirag Vaghasiya
In today's fast-paced digital landscape, the choice between white label app and custom app is a pivotal decision that businesses must make when venturing into mobile application development. Both approaches have their distinct advantages and disadvantages, and the path chosen can significantly impact a company's success in the digital realm. Every business has common goals… Read More