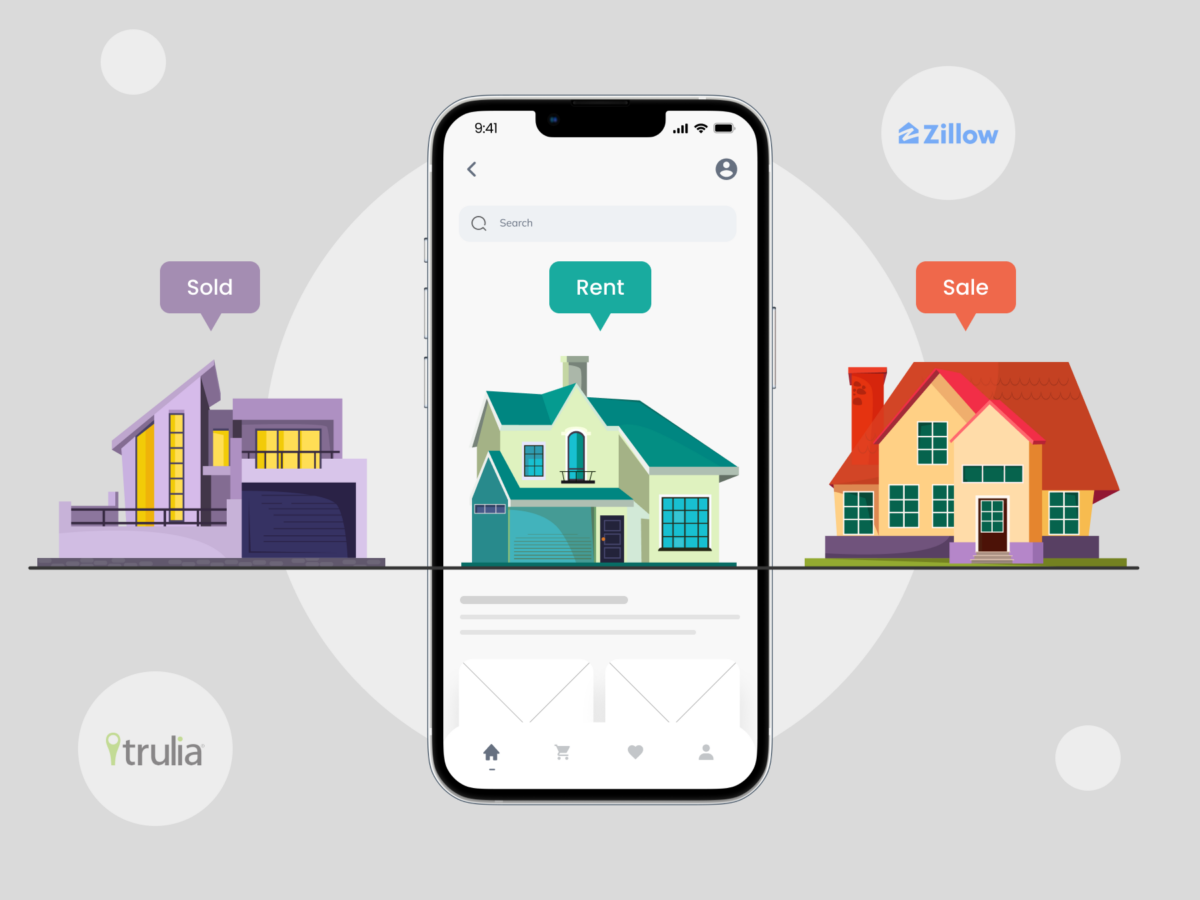 Ankit Patel

December 22, 2022

5 min read
Gone are the days when one had to walk from one corner to another to find a residential property. Living in the app age, all you need to do is swipe your fingers. Thereafter, you need to select the kind of property that you wish to move into. This is something that has helped the real estate industry to gain a competitive edge. Hence, the popularity of the real estate market has observed its prominence grow manifold.
Particularly thanks to property management apps like Trulia & Zillow, the prominence of the market has grown manifold.
The apps had their subsequent launches taking place in 2005 and 2006 respectively making it possible for users to get access to homes for sale and easily buy or rent a property of their choice. This has been majorly responsible for the solutions enticing the attention of entrepreneurs, especially those who want to create a presence in the real estate industry.
If you are among those who want to make big in the real estate industry with an app, then this article is for you.
So are you ready to get enthralled in the thrilling journey of real estate app development to become part of the billion-dollar real estate market? If yes, then read on!
Market Value for Real Estates App like Trulia & Zillow
Take a peek at the global market share of property management apps like Trulia and Zillow to understand the prominent nature of the real estate industry.
Top Players of Mobile Property Search Market
The below image state the names of the top market players in the real estate industry.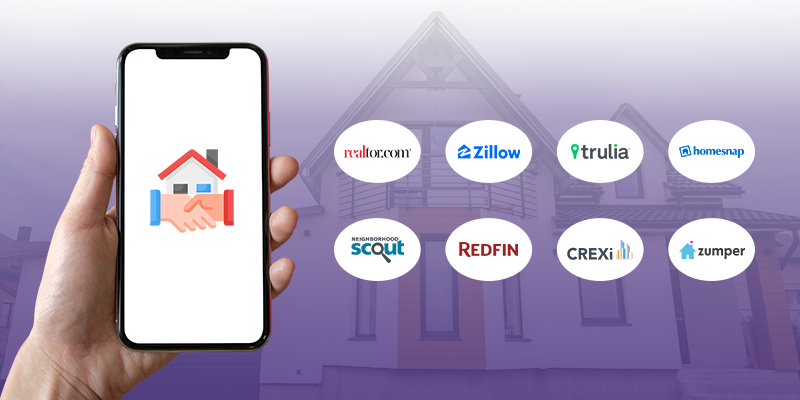 Now that you gain knowledge of market stats and top players that are presently ruling the real estate market, it is time to look at the top benefits and essential features to build a successful real estate application.
Benefits of Developing a Real Estate App
A real estate app has three main segments, namely, the buyer, the seller, and the realtor. Hence, when it comes to the benefits they provide to the three, they are in fact, diverse.
• Benefits for Buyers
Allows easy buying and renting of properties.
Presents buyers with the support to get a panoramic experience of the property they plan to move into thereby reducing the requirement to step out physically to visit them.
Gives buyers a full detailed overview of the property they will move into.
• Benefits for Sellers
Opens an array of marketing opportunities for their properties.
Allows them to easily list out their properties and earn through their rent etc directly on the app.
Gives access to new ways to earn revenues through the properties they list.
• Benefits for Realtors
Gives support to promote their brand.
Helps retain leads and boost sales for the property.
Increases scope for increment in the number of potential buyers.
Essential Features of Real Estate Apps Like Zillow or Trulia
Check out the key features to build a real estate app like Trulia or Zillow that are responsible for their popularity.
• Property Details
To assist users to get details of the property seamlessly without any discrepancies, this feature of 'property detail' comes in handy. This includes the property's price, size, address, description of it, etc.
• Database
This is another element that will come in handy when you perform real estate app development. With this feature, you will build a strong customer base and ensure user engagement remains maximum.
• Advanced Search Filter
Based on this element, the 'advanced search filter' it becomes easy to locate properties based on location, purpose, cost, etc for users.
• Interactive Maps
To support your customers in easily finding the right property at the right time, this feature is a very useful one indeed. Through it, users can gain insight into the areas which are nearby their vicinity.
• Virtual Tours
Probably one of the most vital components of the property management app like Trulia & Zillow, the virtual tours feature allows users to get a virtual preview of the properties thereby creating an interactive visual treat for them in terms of getting basic hindsight about the property.
Now you have an insight into the features that contribute to the prominence of property management apps like Trulia & Zillow, let us now look at the tech stacks that allow the apps to function flawlessly.
Tech Stack to Build a Real Estate App like Zillow or Trulia
When it comes to property management, locating residential or commercial properties nearby, etc. through a mobile app, alongside the presence of features that can make this possible, it is equally relevant to use robust technology stacks that can ensure your application works flawlessly.
Here are the suggested technologies that developers utilize to develop real estate app like Realtor or Zillow or Trulia.
| | |
| --- | --- |
| App Designing | Adobe Photoshop, Figma, Ai |
| For Android | Kotlin or Java |
| For iOS | Swift/Objective C |
| For Frontend | React, Java, Angular, CSS, HTML |
| For Backend | Node.JS, Express.JS, PHP |
| Payment Processing | PayPal, Stripe, Braintree, EWallets |
| For Server | AWS |
| Push Notifications | Twilio, Push.io |
| For Database | MongoDB, HBase, Postgres, MySQL |
After an idea of the technology stack and features responsible for the increasing popularity of property management apps like Trulia & Zillow; you can understand why it is a good idea to invest in real estate app development.
It is however recommended that during this process you keep costs in check. It is equally relevant to have an insight into the cost to develop an app like Trulia or Zillow.

Cost to Develop a Real Estate App like Zillow or Trulia
A wide array of factors starting from features to app design come into play when it comes to determining the cost to build an app like Zillow and Trulia respectively. This follows next by the app development company location, the complexity of the app, and the technology stack you use.
However, if we have to provide you with a formative figure for real estate app development, it would be in the range of $20,000 to $30,000 for a basic app. On the other hand, the cost of developing a feature-rich app would cost you above $30,000.
Now, that you got complete knowledge about real estate app development cost, it's time to look into the monetization methods.
Monetization Model to Follow Real Estate App Should Implement
Here are different ways through which real estate based property listing apps make money.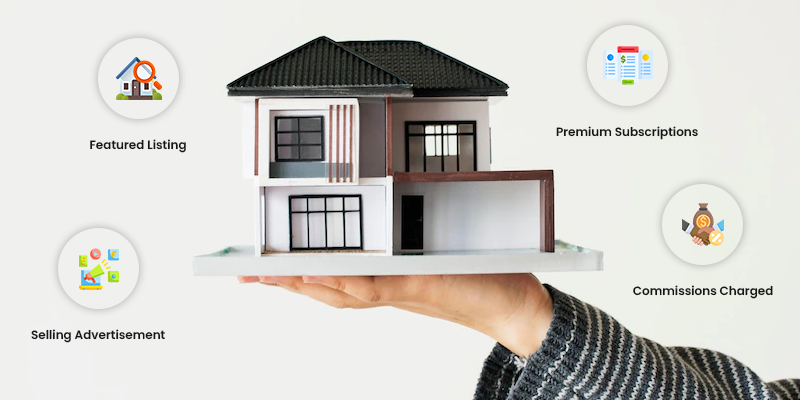 Through selling ad slots to property management companies.
Offering premium services to real estate agents.
By selling ad slots to mortgage lenders.
Commissions that get charged on every transaction made on the property management app.
Are You Ready to Step Into the Billion Dollar Real Estate Market?
During the course of real estate app development, alongside keeping costs in check, it is relevant to keep some areas in check when you develop it.
Research the target market and its needs followed by areas of concern. Thereupon integrate features that solve them readily.
Maintain a detailed approach for the real estate app you develop.
Take advantage of the Trulia and Zillow clone app so that you can reach out to customers faster, and accomplish scalability and growth.
Outsource real estate app development services from a reputed company offshore specializing in the task of building ready-to-launch Zillow and Trulia clone app. Assess their portfolio and client reviews to corroborate their experience.
Once you have followed these steps, keeping these areas in check, you can be sure to develop a property management app that drives value for you and allows you to obtain returns like never before.
Bottom Line
The comprehensive guide covers all aspects related to real estate app development costs. The journey demands adherence to steps like research, competitive study, etc, followed by assessing user concerns and so on. It also requires emphasizing on cost area. This needs you to take advantage of the ready-to-launch Trulia and Zillow clone app if you are on a limited budget.
Real estate applications are highly convenient and thus the demand & competition will only augment. Despite Zillow and Trulia's high popularity, individuals are still looking for alternatives. But the question remains, how to create an app that helps businesses build a formidable place in this niche? The team of expert developers at PeppyOcean, a leading on-demand app development company, is a one-stop solution for developing appealing and robust real estate apps at a minimal price. Connect with us today!
You may also like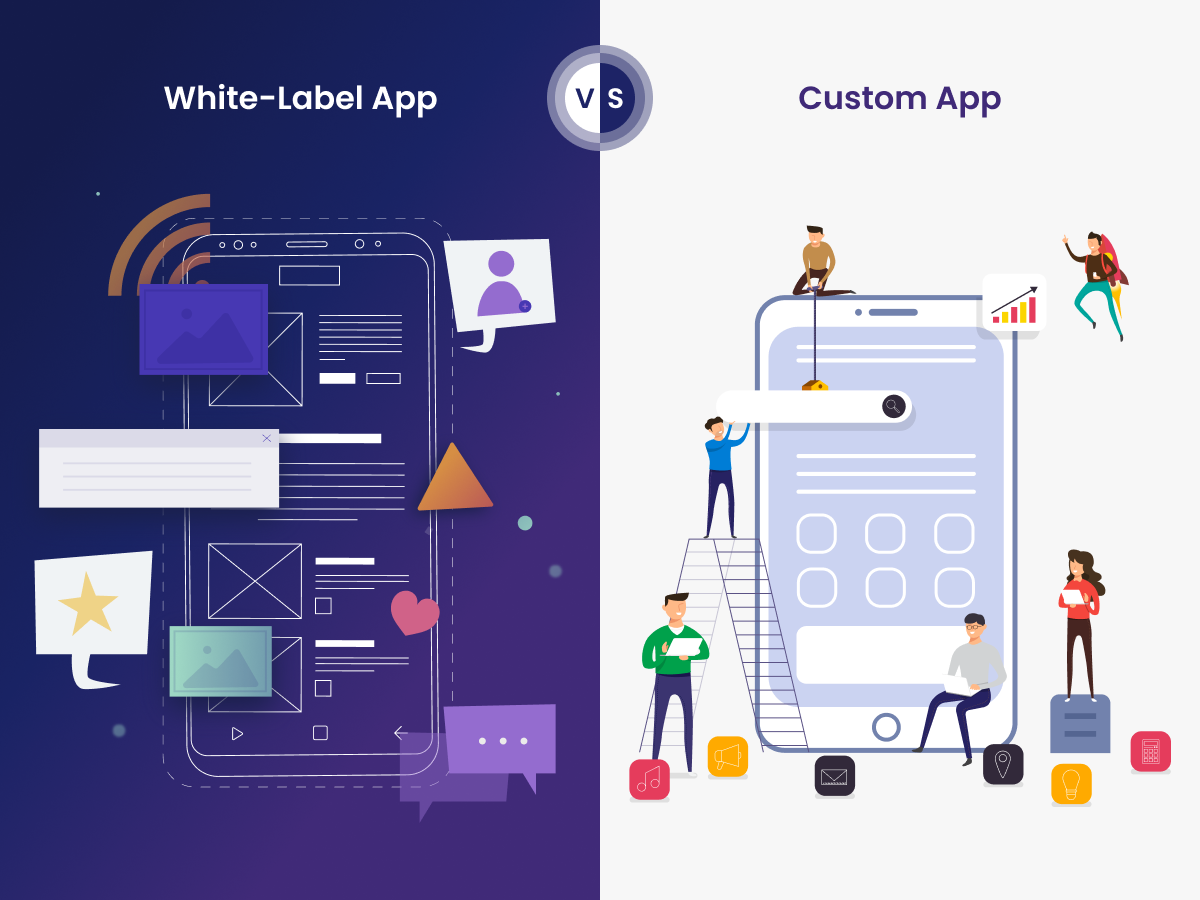 White Label App vs Custom App: Unveiling the Right Choice
Chirag Vaghasiya
In today's fast-paced digital landscape, the choice between white label app and custom app is a pivotal decision that businesses must make when venturing into mobile application development. Both approaches have their distinct advantages and disadvantages, and the path chosen can significantly impact a company's success in the digital realm. Every business has common goals… Read More