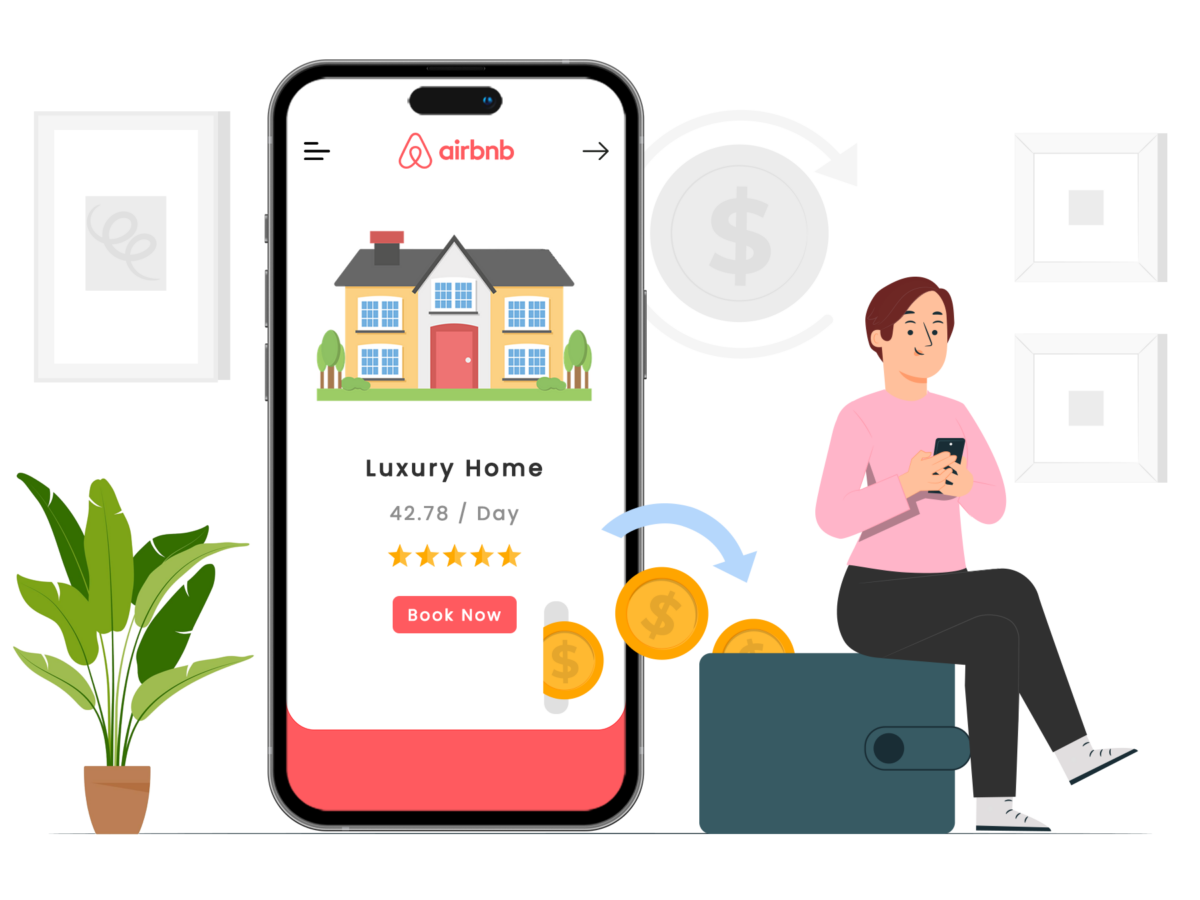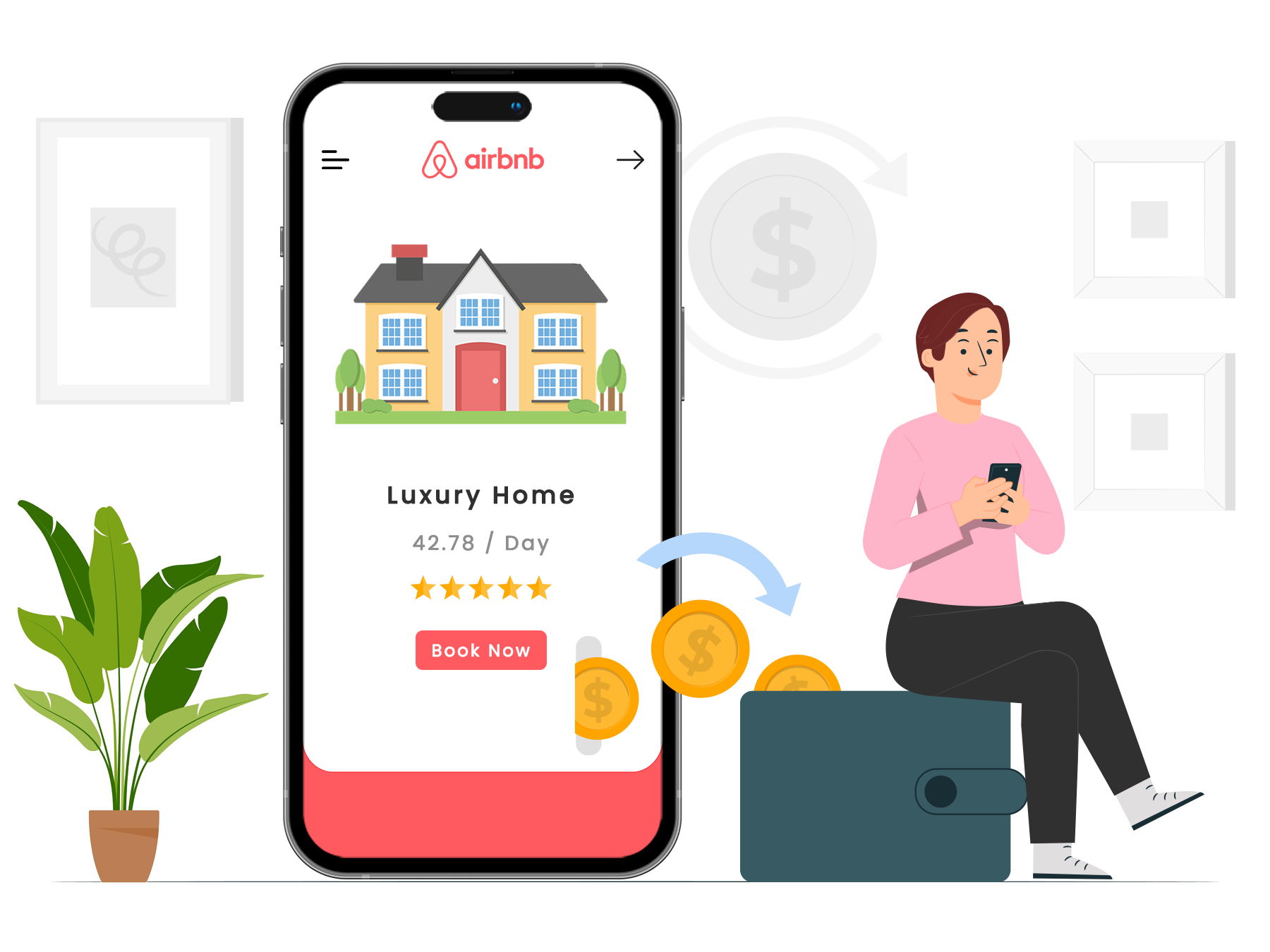 Ankit Patel

February 07, 2023

6 min read
Since Airbnb came into inception in 2008, it has gone on to create a revolution in the way people book spaces when they travel for vacations. It has alternatively acted as a medium for hosts to promote their space and earn through the hosting services.
The revolutionary Airbnb business model has encouraged those in the quest to make their presence felt in this sphere to do so with utmost zeal and passion.
Known as a platform that connects travelers to hosts who have listed their spaces online; it has helped the latter to earn a good amount of money as well through the reservations, so to speak thereby enticing the attention of those wishing to revolutionize the operations of their vacation rental business.
If you are also planning to make your existence felt in this field, congratulations, you are at the right place.
So let's begin.
Introducing You to Airbnb
Founded in 2008 by Brian Chesky, Nathan Blecharczyk, and Joe Gebbia, Airbnb made its name in the last 15 years as an American San Francisco-based online platform that connects hosts and travelers. It allows travelers to access spaces for short-term homestays enabling the hosts to earn a good amount of money from the commissions they receive for the bookings.
This is possible courtesy of the presence of these features that are present on the platform:
Find last-minute accommodation to support travelers who may find it difficult to obtain it, and locate one with considerable ease.
Invite friends to enable the users to share their plan details with their friends, so a travel plan is easy to create together in the future.
Get real-time notifications on new prices and offers, and discounts.
History of Airbnb
Check out the image below to know about the success story of Airbnb to understand how it became such a popular vacation rental platform.

As you can observe in the image, starting from 2008 when the idea for Airbnb was conceived, till 2017, the platform has gone on to become a successive model in the sphere of the vacation rental. Receiving funding of $447.8 million in 2017, the platform has made it easy for hosts to register on the platform to list their spaces so travelers can easily locate them and book them.
Here's presenting interesting facts related to the Airbnb marketplace.
Founders – Nathan Blecharczyk, Joe Gebbia, and Brian Chesky
Headquarters – San Francisco, California, USA
Number of Users – More than 150 million worldwide
Total valuation – $86.5 billion
Funding – $6 billion
Present in 34,000+ cities across 190+ countries.
Everyday more than 140,000 people stay at an Airbnb listed place
Airbnb Business Model Stats & Facts
Has over 150 million users on the platform globally.
Guests stay on an average of 4.3 nights per booking.
Airbnb provides its services in over 100,000 cities globally.
Has over 4+ million hosts registered on the platform.
Earned revenues of $5.9 billion in 2021.
The platform received over 300 million bookings in 2021.
Take a peek at the graph to gain insight into the growth figures achieved by the vacation rental app.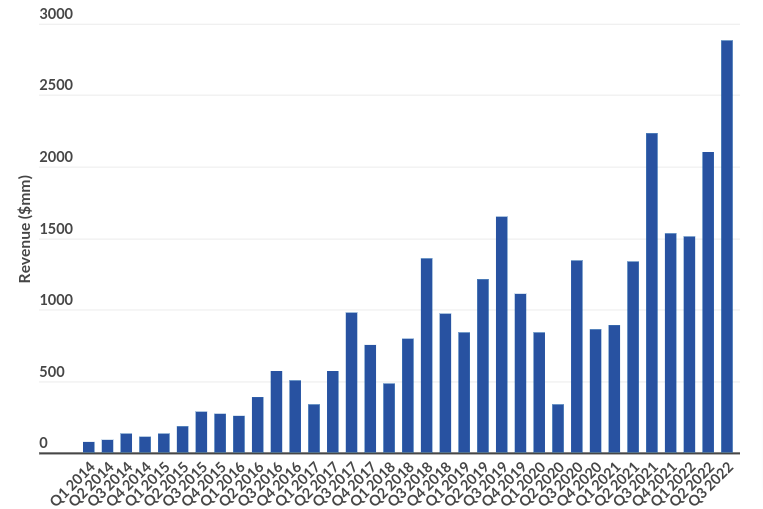 Image source: businessofapps.com
Now, check out the market share of the platform in the pie chart to observe its performance in comparison to other apps.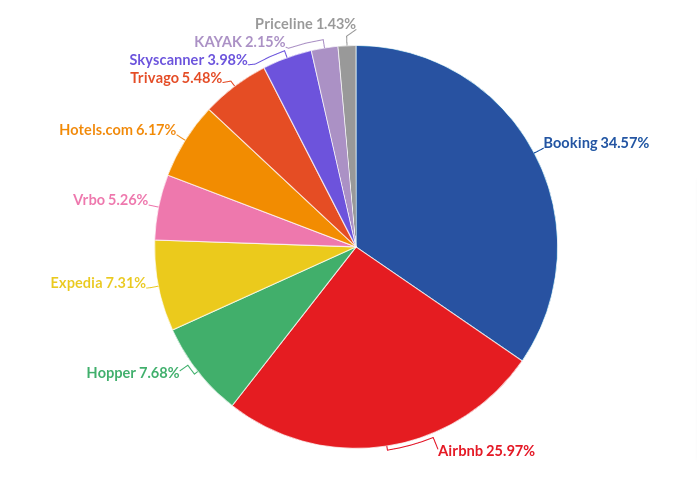 Image source: businessofapps.com
How Does Airbnb Work?
Alongside possessing some of the best-in-line features, Airbnb also has easy operations. Check out how Airbnb works in the points below.
Hosts list their properties online citing the amenities present, their pricing details, etc.
Professional photographers get sent thereafter to take a snapshot of the property.
Travelers find the properties listed alongside their pricing, and amenities by booking them after successful verification while being charged a transaction fee for the same.
Hosts approve the booking, and the traveler is notified of the same upon which they reach the property to avail of the services. The host on the other hand on successful traveler arrival receives rent and is charged a 10% commission.
Read Also: How Much Does It Cost To Build A Travel Booking App
Airbnb Business Model Canvas
Gaining insight into the operations of this vacation rental app; let us now comprehend the Airbnb business canvas model to check how it connects hosts and travelers.
The main connection between the startup and the triumph of Airbnb is the Airbnb business model.
Possessing an aggregator model, Airbnb makes it possible for hosts to list their spaces online so that travelers can easily locate them and book them for a specific duration of time paying for the duration they will be staying.
Now you may be wondering if the model is similar to the likes of Marriott. The answer is no. This is because the travelers while booking the space get the opportunity to stay close to the locals. So, in short, the model is different from the likes of Marriott.
Check out the image to get a glance through the Airbnb business model canvas alongside cost structures and revenue.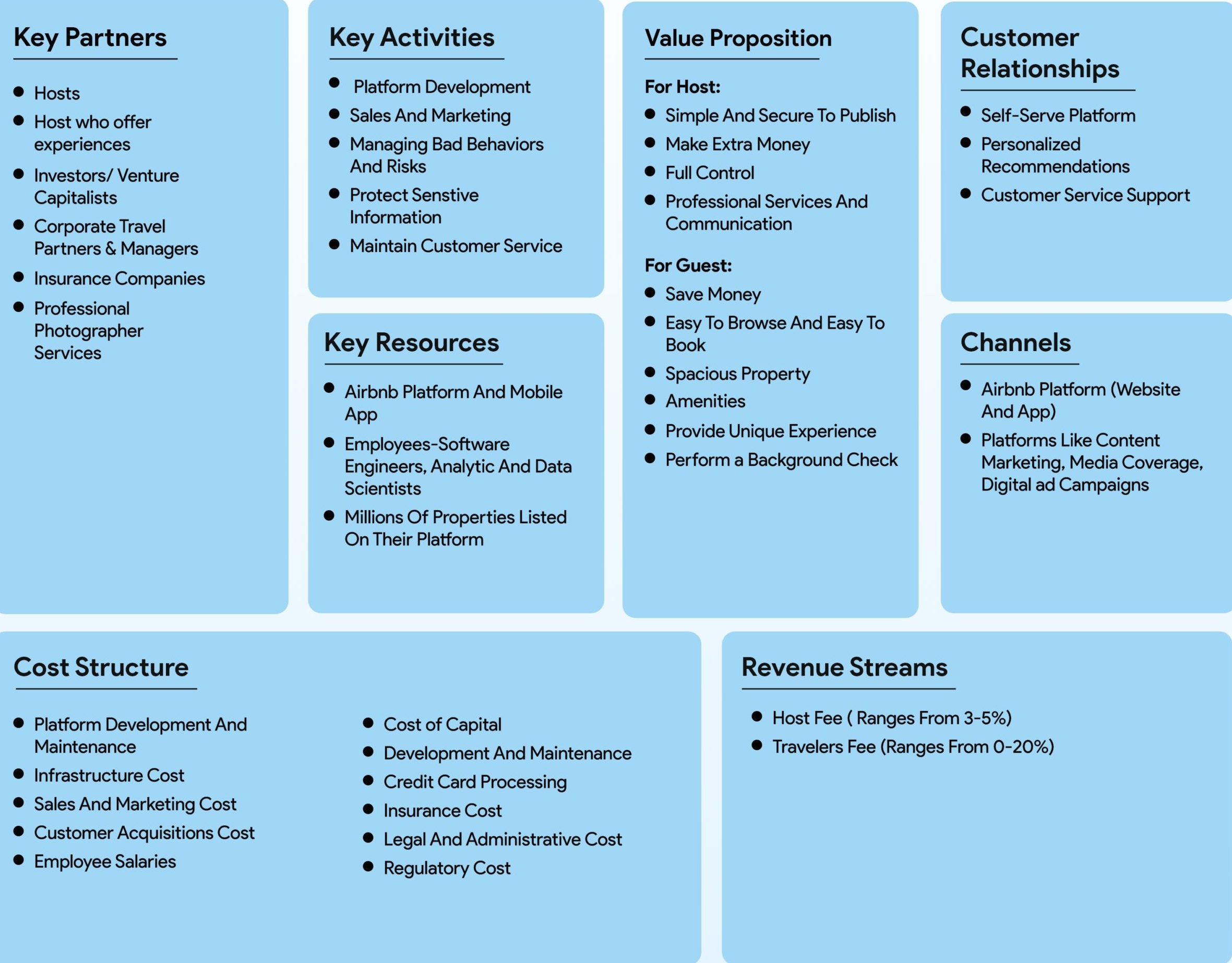 Image source: apptunix.com
Airbnb Market Segmentation
So far, we have learned the business model of Airbnb and its operations, let's now take a comprehensive view of the Airbnb segments people and their requirements.
Hosts – Hosts list their empty spaces for travelers in exchange for receiving rent from them. They have the right to set their own rent, check-in & check-out timings. Hosts can even accept or reject the traveler's request.
Travelers – Travelers book the empty spaces listed by the hosts for a particular time duration paying rent for the same to the host.
Photographers – The third not so popular segment yet an integral one; the photographers are hired for a particular duration to click high-resolution photographs of the host's property. The main objective of hiring photographers is to take pictures to give travelers a clear idea of the rental space and how it looks.
Read Also: Travel App Development Guide – Cost, Benefits, Features
How Does Airbnb Make Money? [Airbnb Revenue Model]
It is time we understood how Airbnb earns money.
If we have to discuss Airbnb revenue model; the platform earns through the listings and stays that travelers make on the platform. Check out the image below to comprehend this better.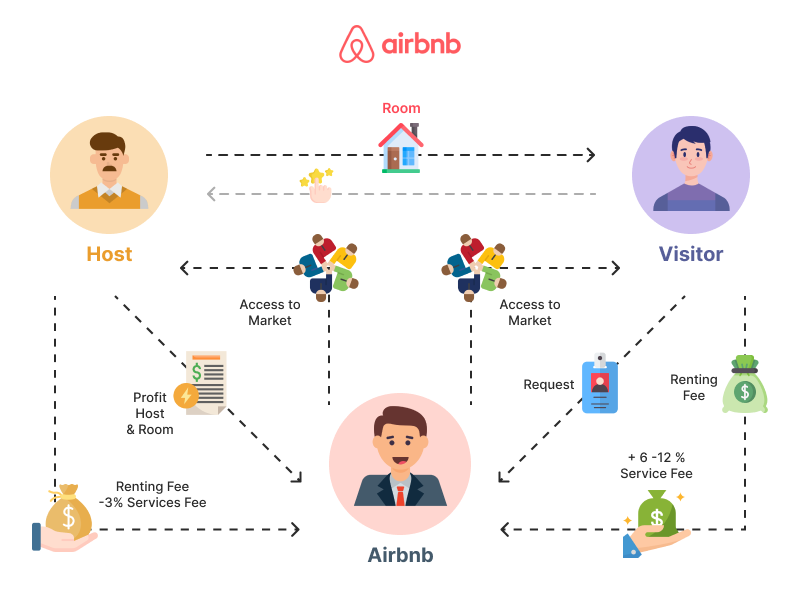 As you can see in the image, the host is charged a 3% service fee as commission whereas the travel gets charged 6 to 12% approximately as a transaction fee on the amount they pay.
Commissions from hosts wherein based on the booking that gets made on the platform through the traveler with a payment done by them, the host is charged 10% of that amount as commission.
Transaction fees from travelers wherein the travelers get charged 3% of the amount they are paying as transaction fees.
Planning to Create a Vacation Rental App like Airbnb?
Courtesy of the possession of a unique business and revenue model, having extremely easy operations, and as a result of these attractive figures, Airbnb has enticed the attention of those who plan to enter the vacation rental sphere by developing an app similar to the aforementioned one.
So how to go about that? How to make your vacation rental app development process a memorable one so you can earn maximum revenues through the platform that smoothly connects hosts and travelers.
Check out the real issues that your customers are facing so you can create and conceive a business model that addresses them with utmost convenience and smoothness.
Keep user needs at priority level #1 and ideate a design strategy that makes it possible to retain the attention of your users on the platform.
Utilize technologies that are disruptive and out-of-the-box. Implement ones like VR, AR, etc so users can virtually explore the property before booking it to get a real-time view of the property as well.
Get in touch with a company adept in Airbnb clone app development so you can make easy modifications within the solution based on future business and customer needs and accomplish scalability and growth.

Cost to Develop an App like Airbnb
When you embark on the journey to build an app like Airbnb; it is vital to focus on the budget aspect as it does not make sense to spend much on the development phase, particularly during the inception phase.
There are many factors that affect the cost of creating an Airbnb-like app, such as app design, app platform (Android, iOS, or both), app complexity level, team size, advanced features, the location of the mobile app development company, etc.
Thus, if we have to give a formative figure, the cost to develop an app like Airbnb would be around $20000 to $25000 for a single platform with basic features. However, if you want to launch an app for both Android and iOS, then it would cost you around $40000 to $50000.
If you feel the above cost is too much for you, it is wise to get the customizable Airbnb clone.
Wrapping Up
Airbnb, its business and revenue model is a source of inspiration for upcoming startups. Possessing an aggregator model, it helps connects hosts and travelers; acting as a medium for hosts to earn through the spaces they list on the platform. This unique model has helped it earn a huge user base and encourage new business owners to build an app on its lines so it earns handsome profits. If you are also planning to achieve something similar; get in touch with us today. The online travel industry is rapidly growing. That is why investing in developing an app like Airbnb or Airbnb clone could be a win-win situation for your startup.
You may also like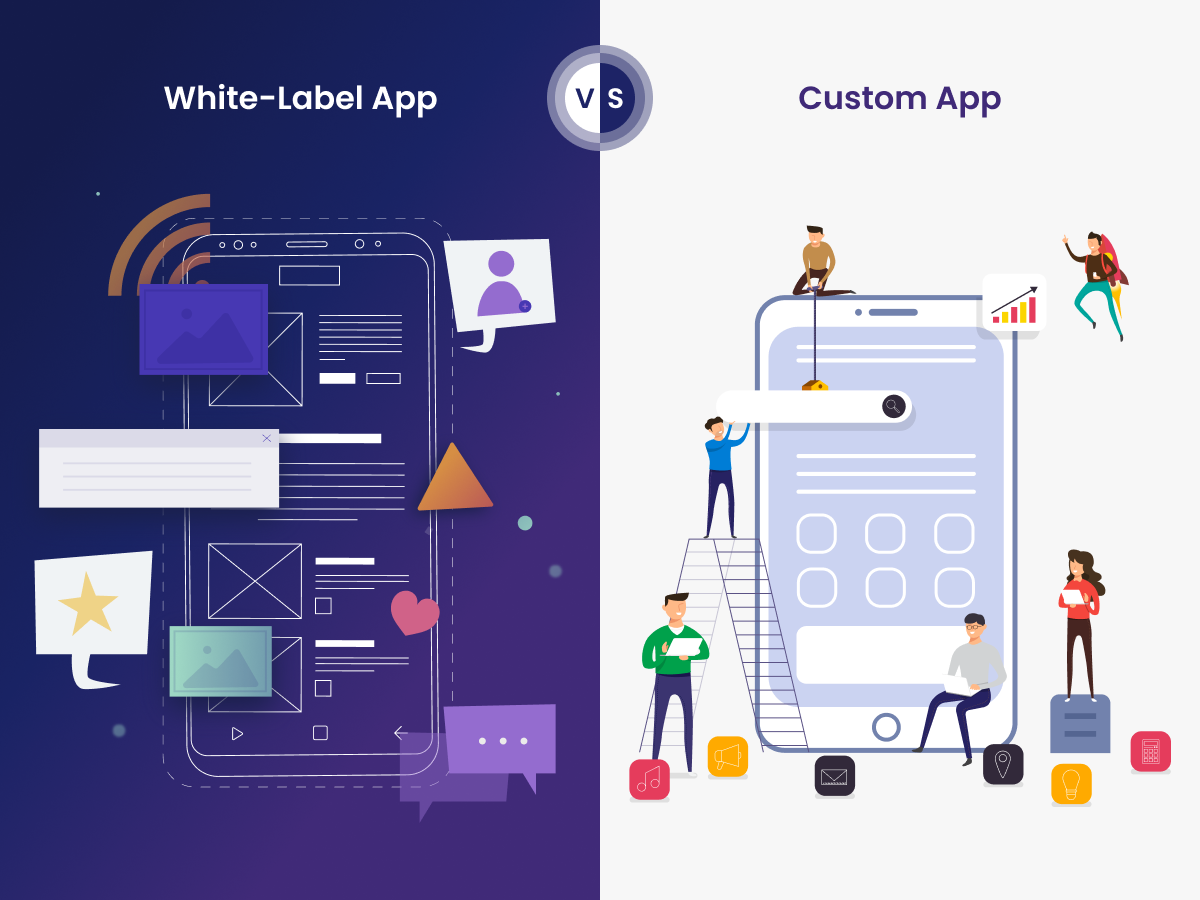 White Label App vs Custom App: Unveiling the Right Choice
Chirag Vaghasiya
In today's fast-paced digital landscape, the choice between white label app and custom app is a pivotal decision that businesses must make when venturing into mobile application development. Both approaches have their distinct advantages and disadvantages, and the path chosen can significantly impact a company's success in the digital realm. Every business has common goals… Read More