Ankit Patel

December 10, 2021

5 min read
Taxi applications have mostly replaced traditional ride-hailing services, and you can now order cabs through mobile apps. However, there is a lot of competition in the transportation industry, which you will have to deal with once you enter the market. You can start your business with an Uber clone app, which you can get from a taxi app development company. Let's look at some of the things you should think about when developing a taxi app.
● How To Build A Taxi Booking App?
Find Market Nich
The very first step is to figure out what you want to achieve and what taxi booking services you would really like to offer in the market. Taxi app development services encompass not only the development of an uber clone app, but also the selection of specific transportation services such as:
An app for carpooling
An application for taxi services
Shared bicycles
Services for car rental
Bus reservation services
Solutions for trucking and logistics
An app for on-demand delivery
Others
It's best to choose one about which you have some understanding and experience. You don't have to use an uber-like app to be successful; you may build your own path to success. Apart from that, develop your own marketing techniques to attract users, as they are crucial to the growth of any mobile app.
Learn The Market
Before drawing any conclusions, it would be advisable to perform thorough research about the taxi app's current trend and demand. Ask your audience directly exactly what sort service and experience they expect from the providers, including what advanced capabilities they would like to see in a taxi service app. There are a few factors that need be decided at this point, such as:
At what location you want to your app to be launched.
Who will be your target audience ?
What payment system you will choose through which you customers will pay ?
What features you will integrate in the app to differentiate your brand from others ?
Business Model
This is the vital phase where you have to choose a particular business model for your app. At this point you have to decide how you will operate your business and earn money through the app. Either you can own a company and hire drivers to drive the taxi or you can adopt a Uber like model to start your business. A well-thought-out business model considers all of the important factors that should be taken into account while creating a business plan. As an example:
What kind of resources are needed?
What are the opportunities for making a profit with the app?
How do you generate revenue and profit?
Which marketing tactics will be potent?
Find A Taxi App Development Company
Lastly, find a suitable taxi booking app development company with whom you can share your ideas and concept freely. They will provide you with a team of experienced developers and quality agents who will assure that you get a fully functioning app as per your expectation. They will keep in constant communication with you throughout the app development process. You can also hire freelance developers, but there are chances that you may have to compromise with the quality aspect. If your app is not properly created, your chances of receiving fewer traffic will increase, which will be a disaster for your business.
● Features That Should Be Considered In A Taxi App
If this is your first time using the app to operate your business, we recommend starting with the minimal features to save money for future use. Later on, as more people become aware of your brand, you can add more advanced features to it. However, if you have a big budget, you can create a strong impression on your audience by providing them with something unique. As the saying goes, the first impression is the last impression.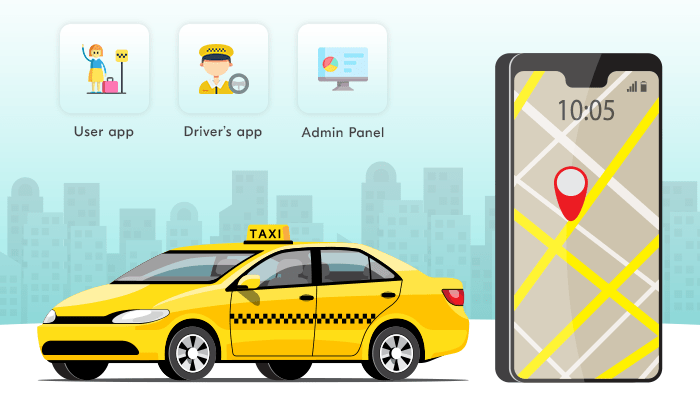 A taxi app is made of three different apps –
User app
Driver's app
Admin Panel
These three of them server's different purpose to users, drivers and admins. Let's take a closer look at the key features of all three apps.
USER APP
Registration
Taxi booking
Real time tracking
Multiple payment options
Fair calculation
Push notification
Driver rating and review
Travel history
Customer care support
DRIVERS APP
Login/Registration
Trip alerts
Accept or reject request
Track earnings
Trip history
Navigation
Push Notification
Passenger rating and review
Booking cancellation
ADMIN PANEL
Login
Dashboard
Fare management
Driver management
Passenger management
Vehicle management
Track earnings
Review driver payoffs
Notification management
Check ratings and reviews
Drivers and customer support
● How To Monetize The Taxi Booking App?
There are numerous ways to monetize the taxi app which you can apply. It also depends on the transportation service which you choose but these are some of the common ways which can be applied in almost all transportation services.
Commission from users:

By charging a commission fee of 20% to 25% from users you can earn money.

Service charges:

In addition to the commission fee, cab firms charge service fees for things like security, payment processing, and insurance.

Cancellation fees:

Then comes the penalty which you can put on each cancellation request that you receive from the passengers. This is also one of the great ways of earning.

Advertisements:

You can show advertisements in your app but up to a certain limit. Nobody wants to use an app that is cluttered with adverts. You can charge a cost per click or a cost per impression by displaying third-party adverts in your app. This is one of the most used revenue-earning ways which most app owners perform to generate profits.

Third-party collaboration:

Mostly all popular brands use this tactic to create their brand impression in the market. If you work with third-party brands, you can ask them for promotional fees, and your consumers will benefit from those brands through discounts, offers, gifts, and other incentives.
If you choose taxi app development services to get the app, there is an advantage that you can discuss your marketing campaign with them as they also provide these services. They can help you in reaching out to your audience through various social media platforms.
Choose a Taxi app development business wisely, one that suits your budget and has relevant experience in the field of mobile app development.
● Technology Stack For Taxi App Development
Well, the technology stack varies according to the platform that you choose to launch the app. Most people choose to go for both platforms to get access to the large userbase. Android and IOS both have their tools for development, but the backend interface remains the same. You can develop the app for IOS and Android through PHP, Java or HTML5 and many more.
App Development Technologies
1. Swift for iOS
2. Java/Kotlin for Android
3. Node.JS/Express.JS for Backend & API
4. React.JS for Front-end
5. MongoDB for Database
6. AWS for Server
7. Cloudinary for Image & Video
8. Twilio for SMS Gateway
9. Stripe/PayPal for Payment Gateway
10. Google Map/Apple Map
Conclusion
If you are planning to run a taxi service business, you can initially go with the Uber clone app. It is recommended to opt for a single service in the starting phase then later on you can expand your business in multiple transportation fields which Uber had done in past few years. The world is shifting towards mobility solutions as they bring ease in day to day life. Send us a quote and we'll talk about your app idea.
You may also like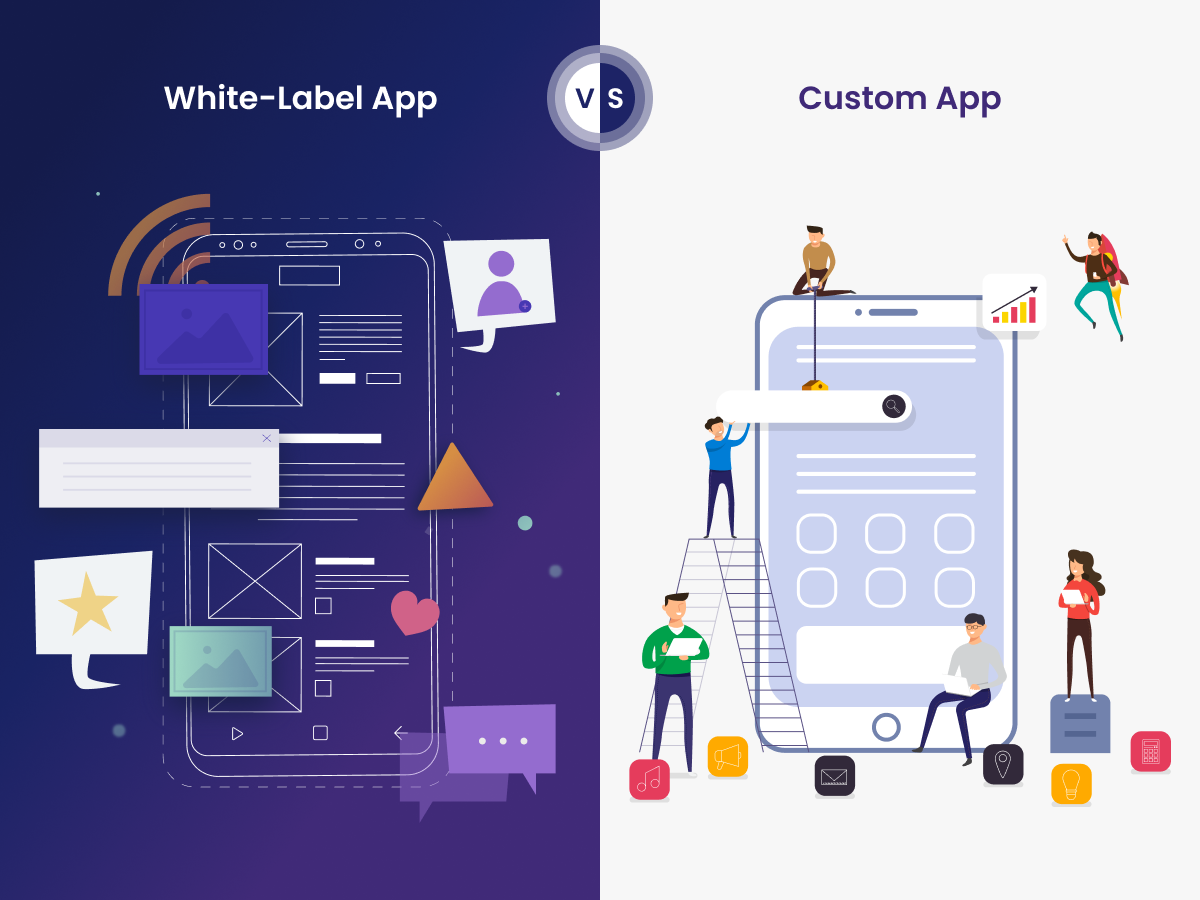 White Label App vs Custom App: Unveiling the Right Choice
Chirag Vaghasiya
In today's fast-paced digital landscape, the choice between white label app and custom app is a pivotal decision that businesses must make when venturing into mobile application development. Both approaches have their distinct advantages and disadvantages, and the path chosen can significantly impact a company's success in the digital realm. Every business has common goals… Read More